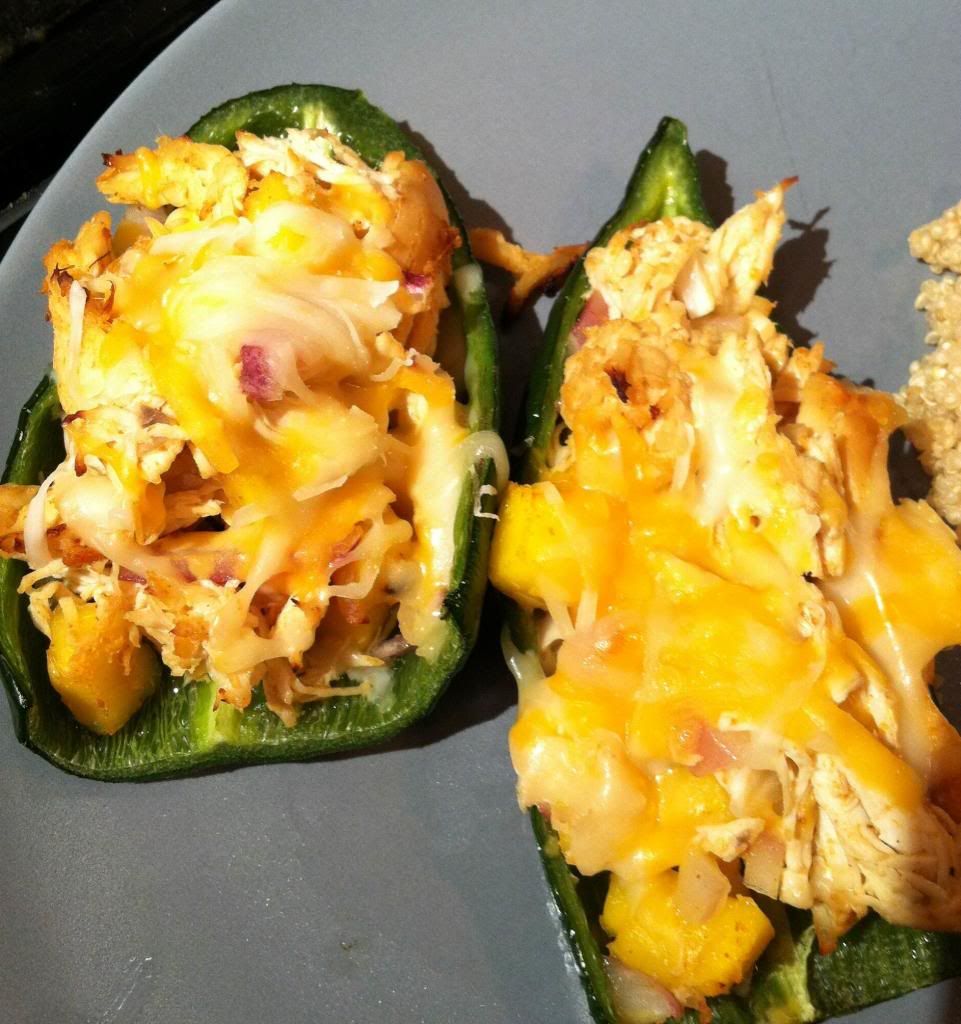 I gush a lot about my fiance, Matt, so I'll try to keep this as un-disgusting as possible. Seriously though, he's probably the calmest, most laid-back person I know. Maybe he gets his easygoing demeanor from growing up in California, but nothing seems to rattle him. In fact, one of the only times he ever complains is when he's bitching about the lack of good Mexican food here on the East Coast. I can't say I blame him. Now that I've had Mexican food while visiting California, I get sad just thinking about the fact that I can't just grab amazing Mexican food whenever I want to. Then again, maybe that's a good thing! I'd probably be rivaling Mama June from "Here Comes Honey Boo Boo" with the amount of chins I'd have if I had access to those West Coast Mexican delicacies. When we got poblano peppers in our crop share this week, Matt suggested we try creating a dish based on one of his favorite dishes from back home: stuffed poblano peppers! Here's how it's done:
Ingredients:
4 poblano peppers
1 lb boneless, skinless chicken breasts
2 tsp olive oil
3 tbsp lime juice
2 tsp apple cider vinegar
1 tsp chili powder
1 tsp chipotle chili powder
1 tsp cumin
3 cloves garlic, chopped
1/2 red onion, diced
1 mango, cubed
1/2 cup reduced-fat Mexican cheese blend
salt and pepper, to taste
Combine olive oil, lime juice, vinegar, chili powder, chipotle powder, cumin, and garlic in a bowl. Combine with chicken breasts in a Ziploc bag and marinate for at least one hour.
Preheat oven to 400 degrees. Bake chicken breasts for 25-30 minutes.
Meanwhile, slice poblano peppers lengthwise and hollow out.
Once the chicken is finished, shred it using two forks and combine it with onion and mango. Stuff poblano peppers with the chicken mixture and bake an additional 20 minutes, or until peppers are soft.
Top with cheese and serve with quinoa, brown rice, or whatever you'd like! Enjoy!

Nutrition information (not including quinoa/rice):

Serving size: 1 whole pepper. Serves 4.
Calories: 222 | Carbs: 11g | Fat: 8g | Protein: 27 | Fiber: ~2g